Looking for a garden shed, potting shed, tool shed, children playhouse or some space for a workshop? Look no further.
We have researched different types of garden sheds for sale, garden shed suppliers, shed accessories and shed plans, so you don't have to.Whether you are a DIY enthusiast or need a quick, hassle-free storage solution, we have the answers.
Garden Sheds – Which shed is right for you?
With a wide variety of options, sizes, style and materials out there, it's difficult to decide which garden shed is best for you. Should you buy wooden, plastic or metal shed? Apex or Pent? Ready-made, half-assembled or embark on a DIY project?
As always the answer is not straight forward. Each option has its own benefits and drawbacks. To help you with this decision, we have prepared for you a FREE Guide  – "How to select the right garden shed".
The guide describes different types of sheds, the pros and cons of each shed type and discusses 10 most important criteria you should consider when selecting your shed.
The guide will help you make an informed decision and will save you tons of time. Instead of driving around to various garden centres and making a decision based on the salesman talk, you can define your requirements, learn about your options and pinpoint the shed that is exactly right for you.
How to download this FREE Guide?
To download the guide "How to select the right garden shed",  just enter your name and email in the form on the right (directly below the Main Menu).  You will receive an email with the link to the download page.
Garden Sheds – To build or …to buy, that is the question
If you have the time, the tools and some basic carpentry skills, building your own shed can save you money and give you the shed that matches exactly your specific requirements.
Besides saving you money, building a your own garden shed can also be fun. Getting your kids to work with you on this project could be a great bonding exercise and it is also a good way to teach them useful skills along the way.
You may also learn some useful carpentry skills yourself and perhaps turn those skills into a lucrative business later on.
If you don't need the extra storage space yourself, you can either sell your creation or rent it out, if you have a yard or a garden that can be easily accessed from the outside.
Garden sheds are always in great demand. Renting your shed could provide an ongoing income opportunity that would pay for the shed many times over. You can also sell it using our Classified Ads.
Building your own Garden Shed is easier than you thought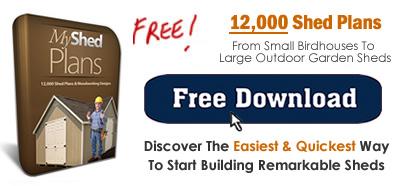 We have an amazing selection of shed plans (not just garden sheds , but every imaginable types of sheds and storage facilities, log cabins, play houses and many more).
The plans come with an exact list of materials and complete step-by-step instructions, drawings, descriptions and even an instructional video that shows you exactly what to do and how to do it.
We also have a handy directory of suppliers, woodworking courses and a list of recommended carpenters and tradesmen, if you run out of steam halfway through your project.
Ready-made Garden Sheds and Shed Accessories for sale
We assembled for you a great selection of garden sheds and shed accessories. Metal sheds, wooden sheds, plastic sheds, apex or pex.  We have researched many different suppliers and only recommend the ones that are known for their craftsmanship, good prices and comprehensive warranties.
So whether you are looking for a quick solution to your storage problem or you want to build your own bespoke garden shed, have a look at our website.
We offer:
A FREE Guide – "How to select the right garden shed"